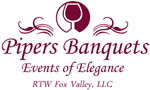 Our Banquet Room can be used for Weddings, Meetings, Parties and more. Day or Night.
We can easily accommodate 350 people for a sit down dinner and over 600 for a business meeting/seminar.
Piper's Banquet facility has a separate bar area and small patio for use with our banquet room. A Bride's Room has been provided for wedding receptions.
For more information, go to the Piper's Banquets website at www.pipersbanquets.com.